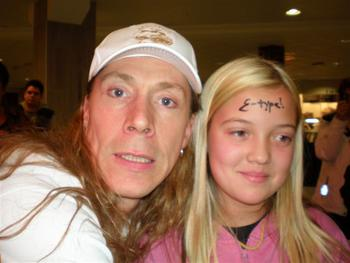 At the day of the release of "Eurotopia", October 31st, we went up to Sundsvall in the North part of Sweden. After 3 lovely hours on the train, where we mostly eat pizza slices and candy.., we reached Sundsvall. When we went off the train there was minus degrees and snow.., but inside the shopping mall it was warm and cosy. A big hug and a huge thank you to every single one of you that was there. We hope you had as great as we had?!

The train trip back home took a little big longer than expected as there were some delays as we had to change railway track and so on, but we continued to eat and spend the time with a quiz.

Home at last, straight ahead to bed!

See pics from Sundsvall!

| | | |
| --- | --- | --- |
| Published: | | 2007-11-20 19:07:00 |
| Updated: | | 2007-11-21 17:15:33 |