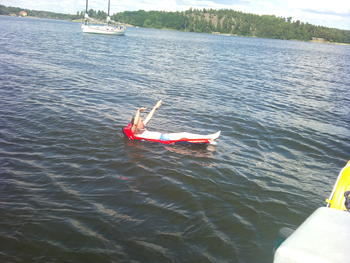 A little too hot but today it is a few degrees cooler so I'm fine. But I suffer with the dogs. I bathed them in the lake twice a day and have ice cubes in the water bowl .. but they panting like I Have Never Seen. Panting? Have Never Said That word before. Breathing hard is-what-im Trying To Say. Otherwise, I enjoy all the days off I have this summer. absolutely fantastic. I have the world's funniest work, but given that I have not been free from work one summer since 1993, it is wonderful to be able to just take each day as it comes.

But I hear that I get a reprimand from our gig in Skelleftea. After the show, I usually always try to actually come out and sign autographs and take pictures with my beloved fans, but this year was not the case. And now I will tell you why. The True Story!
At the end of our wonderful show, I mean our show with our wonderful audience, I got the brilliant idea to throw myself off the scene and run away to a small podium where some people sat in wheelchairs and looked at the show. I climbed upp on that podium and we rocked and sang for awhile and then I jumped down from the podium, like 3 meters down, and offcourse, got stuck on a fence with sharp spikes, which were pressed into my arm When I landed on the Ground. It didn't hurt That much But it was kinda deep and the blood was pooring.

I tried to clean it with towels and a little whiskey but after the show a medical trained woman had a looksy on the wound if it should be sewn. And when I was finished with it and looked out it was no one left in front of the stage. This is what happened. But it was stupid of me not to think that I could send someone out to tell those who stood and waited. stupid me. The wound still looks abit bad and people think I got borrelia. But it's just a bruise around the wound. there was more blunt than sharp steel pins.

The chances that I will survive this is great ;-) and now we have a bit more time off and summer before it's time to go into the cool studio and make party songs.

Hear ya soon. Many hugs and sorry I just disappeared after the show. And thx again Skellefteċ!!!

E-type


http://www.hundarutanhem.se/

or

http://etype.blogg.se


Yes, I almost forgot. The cool old war veteran Veikko from the great land of Finland has finally moved in to his beloved suomikoti and seems to like very well. Sauna everyday! Hip hip hurray for Him and to all who became involved! Small people are bigger than large bureaucrat municipalities.

| | | |
| --- | --- | --- |
| Published: | | 2010-07-15 19:00:00 |
| Updated: | | 2010-07-15 23:06:26 |