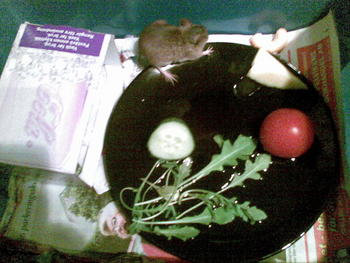 This pic has nutting to do with this evening but some people ask if i only care for homeless and wounded dogs..the answer is no...

Im in my room..

puttin the eurometalcostume on... warmin up the voice.. the band sounded good but its allways exciting to play with new guys.. the weather is fine..its beautiful evening in Järvsö so it should be a good crowd.. its very familiary event so i dont hope that scare any very young or very old.. well ..maybe thats why they hired me.. hehe.. MUHAHAAA

se u there?

hugs
E-type

well the photo is from the day be4 yesterday, i found this lil fella laying on the sidewalk outside my house..cats have probably played with it.. and he got to spend the night in my house.. a she? yeah, maybe.

| | | |
| --- | --- | --- |
| Published: | | 2009-07-17 17:41:00 |
| Updated: | | 2009-07-17 17:54:37 |