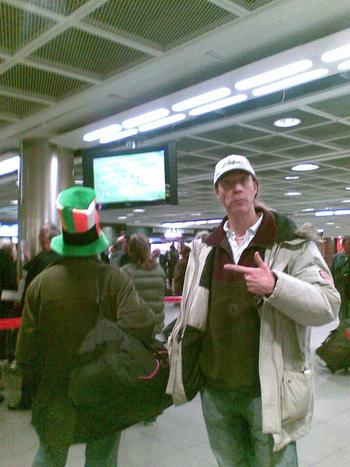 but they have strange hats here...



the battery is darn flat and the car is dark and not moving.. hmm. thats what happens when Im trying to save some money renting a car from Budget.ie.. so dear friends learn from this and use avis or sumthing else when u come here.. and they tell me itīs my fault for leaving the lights . . have a car of my own since 20 years so why would i do that.. wellwell im on a vacation so no worries.. we rent another one and will soon be on our way.. so whoīs we? well first we have little carina from the site www.hundarutanhem.se itīs her organisation and she knows the way aound here..but if I find a dog thats wanna live with me I will switch over to visit the culture places here on ireland..castles and so.. since i donīt drink wisky for 1 year i will skip the tullamore wisky destilleri.. and then we have my friend little anna from the daycare center in sweden, she is also looking for a dog here.. but why not looking for a dog in sweden.. thats becuz they have it alot better than they do here.. in sweden we donīt put the dogs down just becuz they donīt have a owner.. here they do.. and they donīt have all the grim ilnesses (?) like they do in spain and alot of other countries..but hopefully we will soon be on our way in a working car out to the counryside of the great country of Irland.. skål from me

E-type

yes almost forgot.. thank you Örebro!!! we had a great gig friday night.. Örebro is a very nice little town..

| | | |
| --- | --- | --- |
| Published: | | 2009-02-09 11:35:00 |
| Updated: | | 2009-02-09 11:54:57 |