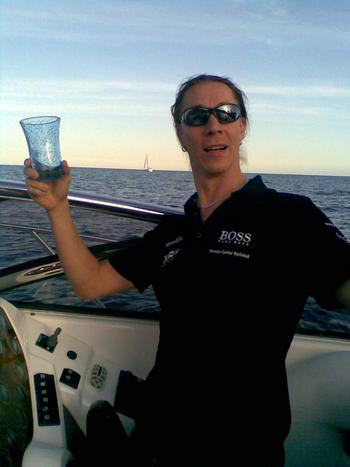 No its not the same shirt second day.. just another one ;-)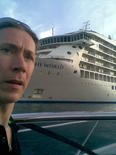 well all of Monaco is like a big harbour.. in the buildning next to my hotel Anja Person and stephanie of monaco lives.. yes yes these pages about my trip will contain alot of namedropings.. thats what monaco is all about ;-) anyhow.. the delightful couple Simon and Cynthia, friends of Tommy and his family, well and of me picked us up in their daycruiser and we spend the rest of the day cruising outside the coast of france, monaco and italy.. looking at yachts and wierd boats in any sizes.. and u know i luv boats so i had a lot to do.. first we met the big The World and our 50 foot boat was like the size of a rescueboat on the big yacht

http://www.aboardtheworld.com/

a crazy ship that just have it all aboard.. u buy ur own apartment and live on the ship while its going around the world..so sick but if u have 20 million euros maybe thats where u should spend them? no? me niether.. but it was cool to acctually see it after ive been reading about it for so long.. its hard to catch cuz its in a constant movement..

| | | |
| --- | --- | --- |
| Published: | | 2008-10-08 10:42:00 |
| Updated: | | 2008-10-08 11:09:25 |