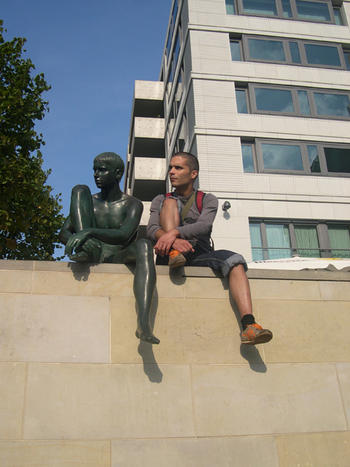 Mheidi to the left or...?



HI E-type



I'm Mheidi from France and like i said in my previous mail, i'm a real fan of you since 1994.

I participated in the photos competitions by sending some pictures of my E-type's records collection but naturaly,

face to my concurrents, it wasn't enough and i understand the subject of the competition was to send a picture of you taken form one of your concerts.

This is why other french fans and i, really hope to see you in France because you can easily imagine that excepted the fact to be on holidays in Sweden or the Netherlands, that's really difficult to assist to see you.

I send you, as Carin advised in her mail, a picture taken from me in Berlin. I'm still in this beautiful town.

Maybe, next year, i will go in Sweden and will have the chance to see you

Send you much love and kisses from France

Take care E-type and a great thank you to Carin who's exceptionnal

HUG

Mheidi

"Hi Mheidi, and many thanx for yar letter. Yar contribution to the picture contest was great but we save them to the next contest..in that contest all u have to do is to send Carin and me pictures that just are somehow related to my humble person as an artist... no rules just funny or good photos or pictures, and each objekt that are presented here will win a special designed T-shirt... but that contest doesnt start until.........................................................NOW! Dont forget to also send picture of you yar self as Mheidi did, and also size in T-shirt ( small, medium or large) and No the T-shirt is not designed yet.

Welcome to sweden when ever u come!

Hugs from E-type"

| | | |
| --- | --- | --- |
| Published: | | 2008-09-11 06:35:00 |
| Updated: | | 2008-09-11 06:49:41 |