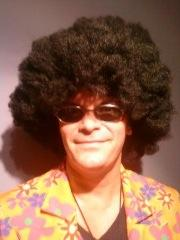 My friend Tommy on his way to a masquerade..


But the next one everybody on earth can participate in, even if ya never have seen my ugly face on stage..

Once again thanx a bunch all u wonderful people who sended me and glorious special agent south Carin all the funny pictures.. it was a hard time choosing from them but a man s gotta do what a mans gotta do... And special hugs to Carin that helped me alot with the correspondence and adresses...

oh..the photo? Remember me telling u about my friend and clubgigkeyboardplayerstandin that lives in monaco..Tommy. He just mailed me a picture of him taken today cuz he and his girl and their friends are going to the biggest masquerade on the riviera.. im invited but im sitting in a rainy stockholm cuz i have a meeting with my auditor tomorrow morning.. good planning?
-N J E T!

Kisses from
E-type

And thanx Carin at e-type@live.se again...

| | | |
| --- | --- | --- |
| Published: | | 2008-09-04 21:35:00 |
| Updated: | | 2008-09-04 22:05:43 |