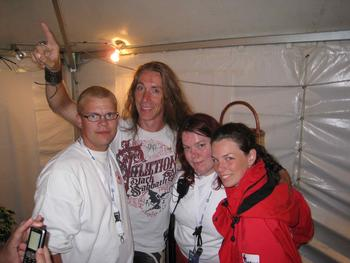 the fantastic medical staff in luleň who took care of my head after i┤d played drums with it

How do u do?


Im great, just alittle bacon after a late nightdinner at my dear old friend and pyrotechnic/keyboardplayer Marcus Marrkkimarrkkis house yesterday.. him and his girlfriend, acctually its her and her nice fathers house, are very close to my little cottage so i took the boat and the dogs over to their place..very nice and very late.. i appreciate my free time and spend the most of it to fix my little house.. today ive been a plumber .. well hope that u are fine and ill write soon again..

..But wait a moment.. this is the adress for the people eager to learn more about all the musicians ive been working with through the years..

The fantastic Lasse P┤s webadress; http://www.e-type.dinstudio.se

I just luv Lasse, he has been to almost all the shows i have done.. allways standing in the middle in the front with his camera.. allways a warm feeling when i see him..

LASSE I/WE SALUTE YOU!!!

hugs from ÷-type

offcourse i have a pic of lasse p but im not sure he want me to put it here.. have to check that..

| | | |
| --- | --- | --- |
| Published: | | 2008-08-08 18:14:00 |
| Updated: | | 2008-08-08 19:07:54 |