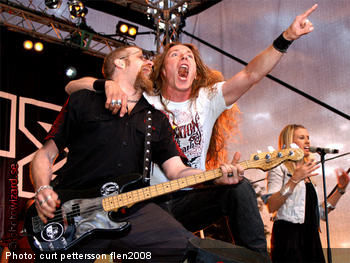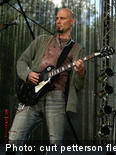 its about 71 minutes to show in kristinehamn.. no not kristinestad in finland this beautiful and hot summer evening we all are in kristinehamn by the lake vänern? outside karlskoga.. showtime 22.00 and i just opened up a lättöl and are sitting on this lttle balkony.. wich i share with our beloved singer sanne.. and i just sneaked over to her room and scared the shit out of her.. very funny she didnt know we shared the same balkony.. well this is as u can see written in a big hurry.. shalom and see u in 68 minutes cuz u are in kristinehamn???

kisses from me

E-type (or as they call me nowadays in the archipelago; ö-type ( ö means island in swedish))

the small pic is our dear standin guitarrist mats attaque and he will also perform with us today in kristinehamn cuz marcus is unfaithful in germany with his heavymetal band royal hunt..

| | | |
| --- | --- | --- |
| Published: | | 2008-07-26 19:50:00 |
| Updated: | | 2008-07-29 22:03:54 |