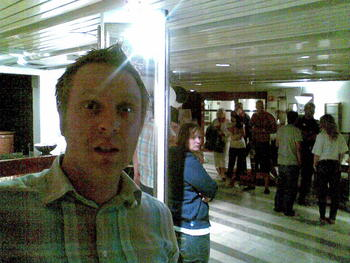 Halmstad First Hotell Mortenson;
RIIING RIIIING!!! 05.16 in the morning.. the fire alarm cries and flashes red in my room..


.. First its just a part of my strange dream.. but suddenly i wake up.. its no dream , the fire alarm is on , my room looks like the redlight district in amsterdam... the noice is unbearable, people are screaming outside my door.. they are running, some are screaming.. -Dont use the elevators!! I look out through the windows, what floor am i? oki only second.. hmm .. i will survive this whatever happens! good to know.. i take some clothes on and the most important things and run through the corridors to the stairs.. hmm... i can smell no smoke? Finally outside, all of the guests are gathering on the square just outside the mainentré by the firetrucks and the grim firemen with big axes... what has happened???



..Just one of the guys in the group Nordman had a smoke in the non-smoking room..and Mats Wester donīt smoke...But itīs just a gossip



Big pic, Pyro-Per on the way down.. not to happy
small pic, angry tired people by the truck..

| | | |
| --- | --- | --- |
| Published: | | 2008-07-21 20:11:00 |
| Updated: | | 2008-07-21 20:28:13 |