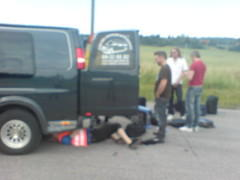 2 dramatic events are taking place at this particular moment. First of all our beloved band are on their way from Stockholm to Oscarshamn and guess what; they just dropped a wheel in 120 km/h, damn those cheep rental car firms playing of the life of my beloved band. But everyone is fine ad they are changing their wheel and will soon be on their way again for tonites show in Oscarshamn.

My and Niklas are driving from Falkenberg and we just passing Värnamo and

We just passing Värnamo on our way from Falkenberg where we just lft the Porche carrera cup and in a minute or two we will now if our excellent driver Jocke Magns will steal the 1st place in this race.

And all of this in the same hour. Thats all 4 now. Sweden is beautiful and sunny in Värnamo.

Bye bye from E-Type!

| | | |
| --- | --- | --- |
| Published: | | 2008-07-12 15:00:00 |
| Updated: | | 2008-07-12 15:14:46 |